Costa Rica is a very small country, full of nature, wonderful beaches, multicultural outcomes, nice people and family values. But, Ticos are humans and they still have issues. So, why is this country called "The Happiest Country"?
Costa Rica is not out of this planet
Costa Rica is not cut off the rest of the world or Latin America and off course we understand what a difficult situation is.
Ticos understand what is not agreeing at all with government management as it happens in many countries.
We understand the frustration of seeing powerful people around "legally" stealing and being unable to move a hand to stop it.
Many Costa Ricans know what is living in poverty as in any other country.
We also have high taxes that are constantly raising.
In Costa Rica, we understand that society is changing and that certain social movements are looking forward to changing everything that´s already set as in any other country for good or bad.
Then, what are the reasons why Ticos can be still happy?
The Costa Rican Scenario
Costa Rica is a paradise full of natural beauties, that is a good reason to be the happiest country.
It´s mainly famous thanks to its wonderful beaches, forests, volcanoes, flora, fauna, etc.
Even when Costa Rica is small it is full of options for wonderful places to visit, and most of them for free.
Beaches are not so far, you can visit a rainforest and a beach the same day.
They are really stunning and wonderful; it is impossible not to be the happiest country.
But, Costa Rica is more than just coasts and forests.
You´ll find that there are interesting places to see and a lot of exciting activities to perform as soon as you get to Central Valley.
In San José, (the capital of the happiest country), Ticos visit museums such as Museo Nacional or Museo de Oro.
They are full of history that helps Costa Ricans to understand in a better way who they are and where do they come from since they are children.
Museo Nacional covers the most complete data of the country´s history and its population during the years.
It´s located in the old Cuartel Bella Vista, the Costa Rican army headquarter before its abolition in 1948.
You´ll find the beautiful Plaza de la Democracia right in front of the museum. In this place, the president José Figueres Ferrer declared the abolition.
Not having Army, a Reason to be The Happiest Country?
Yes, in Costa Rica we do not have an army since 1948.
You might think that we are crazy, or how can we feel like the happiest country if we have no defense.
Well, the reason simple, fewer soldiers more students.
Carlos Alvarado Quesada said at Davos 2019: "Seventy years ago, Costa Rica did away with the army. This allows for many things. Eight percent of our GDP is invested in education because we don't have to spend on the army. So our strength is human talent, human wellbeing."
As you can see, the main intention here is to focus resources on education.
A Blue Zone is found in Costa Rica
A Blue Zone is a place where you find the longest healthy and lifespan population.
It is not just the HPI. A recent Gallup poll found Costa Rica to be one of the happiest countries in the world.
It also has some of the oldest people, with a life expectancy of 78.5 years, longer than in the US.
Nicoya specifically is the famous Costa Rican Blue Zone.
It has become a blue zone because of the way people live here, their nourishment, physical activity, and non-processed food products are the main reasons.
We are Happy because We Have Original Sense of Humor
No matter what the problem is, no matter the situation, no matter when who or how.
There is always a chance to make and tell jokes.
We are very "choteros", it means that Ticos are always looking forward to having fun even in sad scenarios.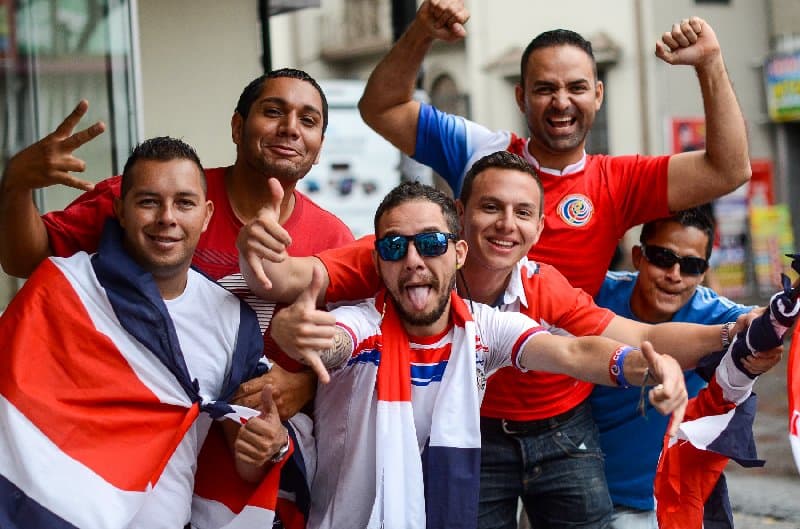 Some people pick on this way of being, but this is the most relevant reason why Costa Rica is considered the Happiest Country around the world.
At Spanish Pura Vida School we can show you these and more reasons to be happy.
See you around!